20.10.2015: GILLETTE FEIERT DIE "BOND MOMENTE" IM LEBEN JEDES MANNES.

Gillette erweckt den 007 in jedem Mann
Während die Welt auf die Premiere von SPECTRE wartet, feiert Gillette die besonderen
"Bond Momente" in denen Mann souverän und absolut selbstbewusst ist.
Aber solche Momente passieren nicht einfach – sie sind präzise vorbereitet.
Inspirierende "Bond Momente"

Diese "Bond Momente" sind speziell von dem James Bond-Schöpfer und berühmten Autoren Ian Fleming inspiriert.
Seine Werke und Worte bilden deshalb das Fundament der Kampagne und bringen den einzigartigen Bond-Stil und
die Geschichte von Gillette zusammen. Aus diesem Grund arbeitet Gillette zusammen mit Jany Temime, der preisgekrönten Kostüm-Designerin
von SKYFALL und SPECTRE, um jedem Mann die passenden Styling Tipps zu geben, damit er immer und überall perfekt vorbereitet ist.
Am 10. Oktober wird Jany Temime deshalb den Gillette Twitter Account übernehmen, um ihre Tipps zu teilen und Fragen zu beantworten,
wie Männer ein ganz persönliches Styling für ihren perfekten "Bond Moment" kreieren können.

SPECTRE, das vierundzwanzigste Abenteuer von James Bond, von Albert R. Broccolis EON Productions,
Metro-Goldwyn-Mayer Studios und Sony Pictures Entertainment, wird am 26. Oktober in Großbritannien
und am 5. November in Deutschland veröffentlicht.

Damit Männer ihren ganz persönlichen "Bond Moment" gestalten können, bietet Gillette ab dem 1. Oktober mit
dem limitierten Gillette ProGlide Flexball 007 SPECTRE Geschenkset in Deutschland das ideale Gadget für das Bond-Styling.
Es ist das perfekte Geschenk, um den 007 im Mann zu erwecken und bietet gleichzeitig eine ultimativ präzise Rasur,
um jederzeit Bond-gerecht vorbereitet zu sein.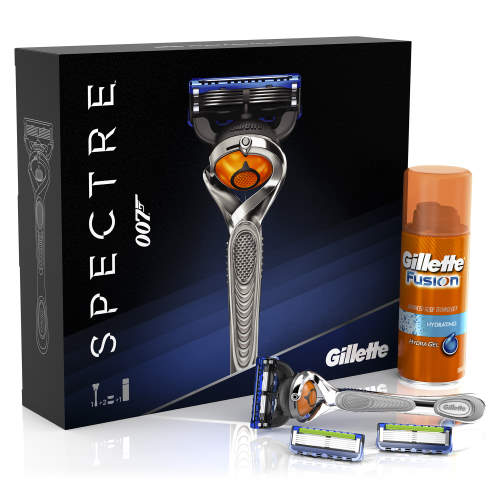 Mehr Informationen zu den Geschenksets und "Bond Momenten" erhalten Sie unter www.gillette.de,
auf Facebook unter www.facebook.com/Gillette.Deutschland
und auf Twitter unter https://twitter.com/gillette.
[Quelle und Fotorechte: www.gillette.de]
About EON
EON Productions Limited and Danjaq LLC are wholly owned and controlled by the Broccoli/Wilson family.
Danjaq is the US based company that co-owns, with Metro-Goldwyn-Mayer Studios, the copyright in the existing James Bond films
and controls the right to produce future James Bond films as well as all worldwide merchandising. EON Productions, an affiliate of Danjaq,
is the UK based production company which makes the James Bond films. The 007 franchise is the longest running in
film history with twenty-three films produced since 1962. Michael G Wilson and Barbara Broccoli succeeded Albert R 'Cubby' Broccoli
and have produced some of the most successful Bond films ever including CASINO ROYALE, QUANTUM OF SOLACE and SKYFALL.
The 24th film, SPECTRE, is currently in post-production.

About METRO-GOLDWYN-MAYER
Metro-Goldwyn-Mayer is a leading entertainment company focused on the production and global distribution of film and television content.
The company owns one of the world's deepest libraries of premium film and television content. In addition, MGM has investments in
domestic and international television channels and is the majority owner of and distributor for United Artists Media Group (UAMG).
For more information, visit www.mgm.com.

About Sony Pictures Entertainment
Sony Pictures Entertainment (SPE) is a subsidiary of Sony Entertainment Inc., a subsidiary of Tokyo-based Sony Corporation.
SPE's global operations encompass motion picture production, acquisition and distribution; television production, acquisition and distribution;
television networks; digital content creation and distribution; operation of studio facilities; and development of new entertainment products,
services and technologies. For additional information, go to http://www.sonypictures.com.